I've been waiting to develop the pictures on my camera to send out a mass email, hence the delay. Sorry 'bout that. And then I hardly used any pictures. Oh, well. Anyway, the news with me:

In early March, Colorado saw an absolutely massive snowstorm. We got 48 inches by my house, and in the mountains it was up to and over seven feet. (For all you metric-heads out there, that's a little over a meter by my house and over 2 meters in the mountains.) Here's me wearing my brother's winter clothes during what was probably our sixth driveway shoveling expedition: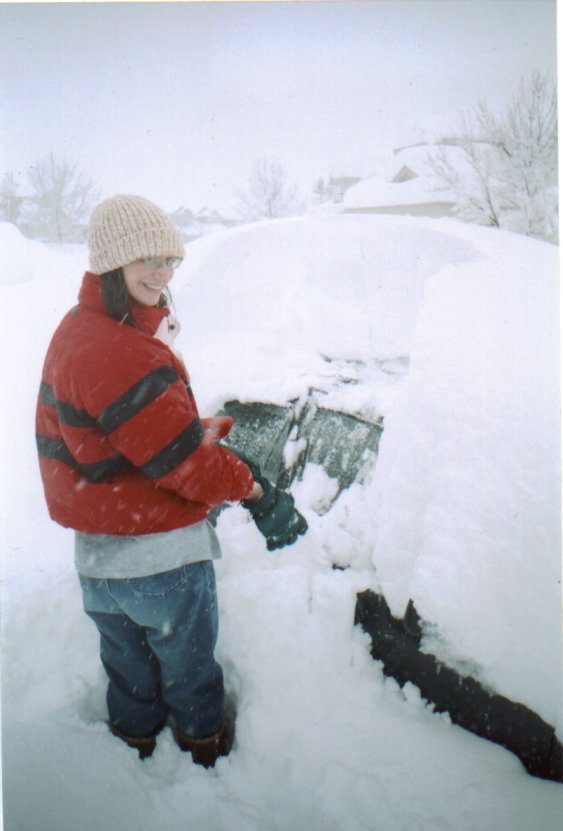 The blue thing in the background? That's my car, Miss Mazeppa. My poor little car that I tried to drive to work on the first day of the blizzard, only to have one of the neighbors help me push it back to the side of the road so that it wouldn't be stranded in the middle of the street. And which now has major scratches on the roof from when I panicked and started shoveling snow off of it like crazy because I was afraid the roof would collapse. It's not easy being Miss Mazeppa.
Now, the snowstorm happened just shortly after what was actually something much more important - my aunting. My nephew Luke Donald Marxhausen was born March 5 as a little tiny thing and is now a damn huge 2-month-old baby. Me babysitting: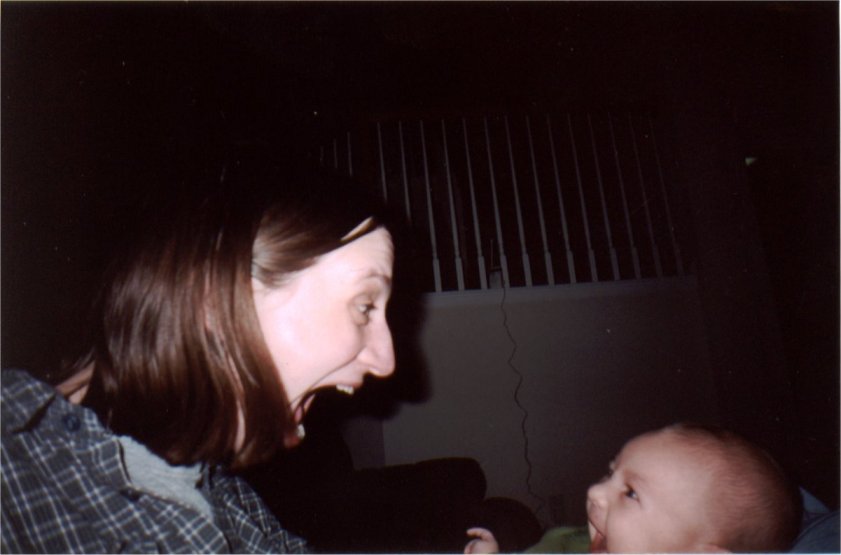 He's learning how to smile, but he needs a little encouragement sometimes. Sorry about the angle; Luke is an evil baby who won't smile as long as you're holding a camera in a position where you can see through it. Any bets on how messed up he's going to be by the time I move out?
The end of March was pretty cruddy. My 12-year-old dog Ivan had cancer and was put to sleep. I expected it, but I also expected my parents to tell me before they did it and not just send me a casual email after the fact. I was really angry about that for a while. Now I just miss him and pretend that the baby is a hairless puppy. Anyway, last photo of me and my furry brother, in early February. (Note that I still have my Edinburgh tan.)
*snf* Poor puppy.
The plan is still to go to University of Wisconsin at Madison in the fall, although I'm having some problems with money. I do have an apartment, though, which is hopefully big enough for me to haul all of my stuff out of storage in Chicago to see what I actually own. In the meanwhile, I'm working here:
Ain't it purty? It's on the outskirts of a mountain town called Morrison. I drive by deer and elk on my way to work some days. Right now, there are literally dozens of barn swallows building their muddy basket nests all over the sides of our office. We're surrounded by flocks of little wheeling birds all day. It's really nice and very cool to watch, but we like to keep the door open in the afternoons, and we get the occasional very lost swallow wandering in and knocking itself out on the windows. Plus, my car is sprinkled with mud. But oh, well.
That's pretty much what's up with me. Stuck in a bit of a holding pattern until August. Although my mother and I are planning a road trip for the summer involving Seattle and Vancouver. (Hmmmm, if only I knew someone there I could visit . . .) I haven't even thought about starting to look for a job in Wisconsin; I'm going to be so deeply in debt by next year at this time that it just doesn't seem worth it. It sucks to have poor friends, don't it? I can't mooch off of any of you guys. Hey, ask me nice, and I'll put up some pictures I have of you guys.

Love you,

Miss you,

Otto